Climate change is one of the most pressing issues of our time. It has become increasingly clear that human activities are contributing to global warming, which in turn is leading to climate change.
The construction industry is a major contributor to this problem, accounting for 37% of annual carbon emissions worldwide in 2021, according to the United Nations Environmental Program (UNEP).
It produces large amounts of CO2 greenhouse gas emissions through building operations, manufacturing processes, and energy use.
In addition, burning fossil fuels used in construction equipment and vehicles contribute significantly to global warming. As such, it is essential for the industry to reduce its carbon footprint to mitigate the effects of climate change.
Parts of the construction sector have taken a step towards tackling the challenge. The World Green Building Council is urging corporations, towns, states and countries to achieve net zero carbon emissions in their portfolios by 2030 through its Net Zero Carbon Buildings Commitment.
This ground-breaking commitment encourages conscientious measures towards a more sustainable planet for future generations. Additionally, they are advocating for all buildings operating to be net zero by 2050.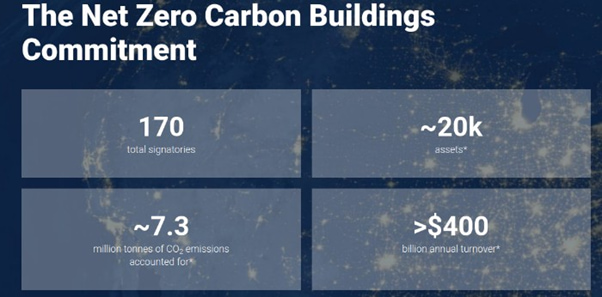 (Image source: worldgbc.org)
Many UK construction industry professionals have made declarations related to climate and biodiversity emergencies.
Professional organisations such as the Royal Institute of British Architects, as well as representatives from the UK's structural engineering sector have come together to issue joint statements regarding these matters.
While contractors haven't made similar collective declarations yet, many have released their own commitment pledges. The UK Green Building Council has recently established the Climate Commitment Platform.
This platform represents the building industry's response to climate change – it maps out climate commitments and carbon reduction goals from its members (comprised of prominent UK-based constructors). The platform also provides an avenue for clients, developers, and contractors alike to candidly share their carbon pledges in a unified manner.
The Effects of Climate Change on Construction Activities
Climate change invariably has several negative impacts on construction activities, including:
Delays due to extreme weather events such as floods or storms.
Increased costs due to material shortages or higher energy costs.
Safety risks from working in extreme temperatures or hazardous conditions.
Rising sea levels can damage infrastructure, and coastal projects may be at risk from flooding or erosion.
Rising global temperatures are causing materials such as steel and concrete to expand and contract more than they did in the past, leading to structural problems down the line.
Solutions from a Business Perspective
Fortunately, solutions are available that can help construction project managers reduce their environmental footprint while also improving their bottom line.
Energy Efficiency and Renewable Energy
By investing in energy-efficient building materials, energy consumption can be significantly lowered over the course of a project's lifecycle.
Also, taking advantage of renewable energy sources like solar power can successfully negate emissions produced by conventional energy sources. In addition to mitigating their environmental impact, construction project managers can also save money on energy costs by utilising these energy-efficient methods and renewable energy resources.
Implement Green Building Standards and Sustainable Working Practices
Construction project managers can dramatically reduce their environmental footprint by applying green building standards such as LEED certification to ensure all new built environments are sustainable, efficient, and cost-effective over time. To complement this certification, businesses should consider adopting lifecycle costing, whole-life carbon modelling, and post-occupancy evaluation as part of their regular process. By working collaboratively with developers, designers, engineers, and contractors, construction project managers have an opportunity to drive behavioural change towards sustainable working practices in the industry and help reduce waste production.
Finally, on the cutting edge of sustainability, there is a need for ongoing research into newer, more sustainable materials and alternative practices, in addition to adopting metrics that best represent sustainability outcomes.
Use Weather Risk Software
Businesses should consider using weather risk management software such as the EHAB Weather Risk Management Platform, which helps project managers plan for potential weather-related delays or disruptions caused by climate change so they can adjust their schedules accordingly.
Why the EHAB Weather Risk Management Platform Is a Game Changer
The EHAB Weather Risk Management Platform is a comprehensive solution that provides the tools needed to properly manage and mitigate weather-related risk for construction projects.
The software comes with three key features:
1. Construction Planning: EHAB's Weather Risk Management Platform helps you plan ahead to reduce the exposure of your project. This includes forecasting potential impacts in the long term so that you can plan critical weather windows better and have more control over your project timeline. With improved control over weather-related issues, you can avoid costly delays and disruptions that come with climate change.
2. Smart Contracts: The platform also allows you to automate your weather clause when working with clients. This reduces the risk of disputes by eliminating manual paperwork, making it easier for both parties to share risk and build a better long-term relationship with each other. It also saves time spent on administering contracts and improves the entire process.
3. Weather Risk Insurance: With EHAB Weather Insurance, you can get instant pay-outs if your project is affected by extreme weather, so you won't have to worry about disruption or delay caused by unforeseen events. These pay-outs help protect your company's balance sheet against weather risks while quickly minimising disruption and getting your project back on track.
By using this platform, project managers can ensure that their projects are completed on time and within budget while minimising any potential disruption caused by adverse weather conditions. For more information, sign up for a free 30-minute demo.