When planning a construction project, it's essential to consider the risk of adverse weather. Extreme weather can cause severe delays and problems on even the best-planned projects – and with climate change, the weather is erratic. As a result, it is becoming more difficult to forecast the duration of bad weather accurately.
For example, in July and August this year, construction activity contracted for two consecutive months. This decline on output was blamed in part on extreme heat. As the ONS put it, "The warm weather experienced in July 2022 […] saw a number of amber and red weather warnings and record-breaking temperatures across much of the country. For the construction industry, working days were lost during this time […]. Businesses reported that it was too hot to work because of the extreme weather conditions and record-breaking temperatures particularly seen around 18th and 19th July."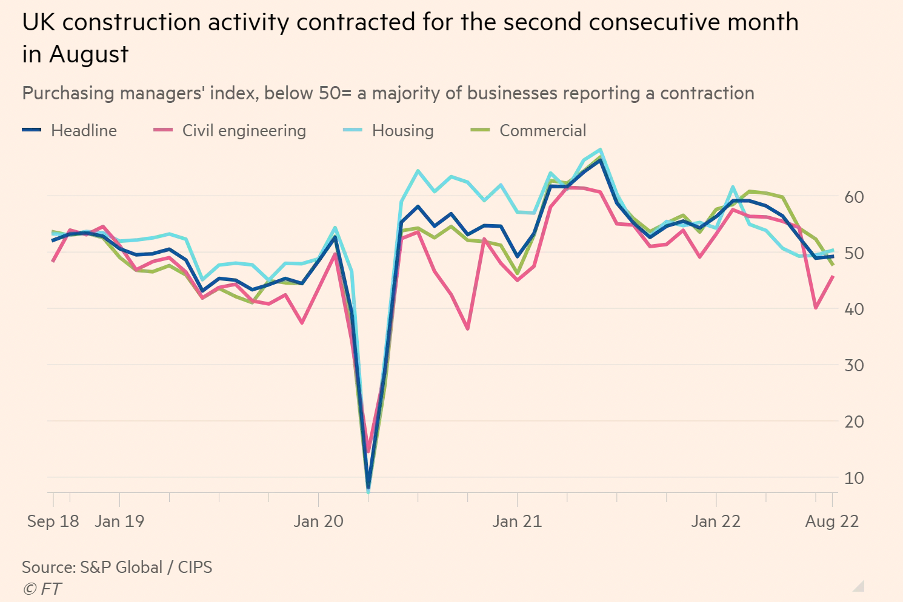 (Image source: ft.com)
With higher temperatures come heavier rainfall over both the summer and winter months. According to the UK's Met Office, as global temperatures rise, the number of extreme rainfall days is expected to increase, causing a variety of delays and problems to the construction industry.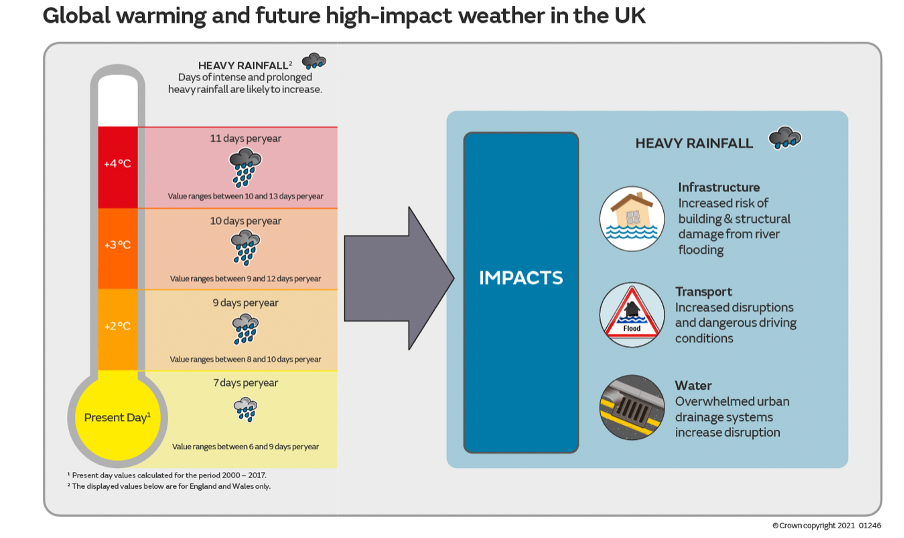 (Image source: met office.co.uk)
As such, construction professionals must be able to accurately assess the increased risk involved with both hot and cold conditions, and how environmental factors such as extreme heat, heavy rain, and freezing temperatures impact construction projects.
Here are four tips on how to do a very accurate bad weather risk assessment.
Know the Climatic Conditions
The first step in doing an accurate extreme weather risk assessment is knowing the climate conditions of your project's area. This includes understanding the average temperatures, rainfall, and other adverse weather conditions for the site where the construction project will take place. Knowing this information will help you to identify which types of extreme weather events are most likely to occur and when.
Use all available resources to gather information about the climate. This includes online data feeds, the UK Met Office, and local resources, such as your local news station or newspaper. You can also leverage local knowledge from people familiar with the area where your construction site is based. In some cases, local people may know something about a place that may not be documented in public information repositories. For example, some locations are more prone to flooding than others due to the land's topography, upstream dams that suddenly release water, seasonal rivers, and so forth – all of which can significantly impact construction projects.
Using all available resources will help you to get the most accurate information possible about the likelihood of a serious weather event occurring and its potential impacts.
Know the Potential Impacts of Severe Weather Events
The next step when doing an accurate unfavourable weather risk assessment is to know the potential impacts of extreme weather events. This includes learning about flooding, power outages, road closures, and other impacts that can occur during adverse weather events. Your impact assessment should cover the following areas:
Environment

: Knowing the potential impacts of severe weather events on your project's environment is essential for risk management. For example, you may need to know if a site-specific area is prone to flooding or wildfires to take appropriate risk management measures.

Health and Safety

: You will also need to be aware of potential risks to worker health and safety during severe weather events. For example, workers may be exposed to the risk of hypothermia if their body temperature drops due to being required to work outdoors in extremely cold weather in wet clothing – or risk suffering heat stroke if they have to work outdoors in excessively hot weather.

Risks to Other People or Property

: Severe weather can also pose risks to other people and property in the area. Slip risk increases in wet and icy weather, whereas the risk of fires and explosions increase in hot weather. Damage to equipment and vehicles also increases in all types of severe weather. Your risk assessment should consider these risks and how they can be mitigated.

Hazards

: You will also need to be aware of the specific dangers present during severe weather conditions. Some examples of potential hazards include high winds, blizzards, flash floods, and lightning strikes.
Develop a Plan for Dealing with Each Type of Extreme Weather
Once you know the types of severe weather that can occur in your area and the potential risks associated with each type, you need to develop a plan for dealing with them if they do occur.
Below is a non-exhaustive list of what such as plan should include:
The resources required

: This may include risk management professionals, weather monitoring equipment, emergency response teams, and other resources that are needed to manage risk effectively during severe weather events.

Preventative maintenance plan

: You should also create a preventative maintenance plan for your project site that focuses on protecting the site from damage caused by severe weather events. This may include preventing water accumulation, clearing storm drains and installing protective barriers or covers.

Procedures for safe access and exit

: It is also vital to create clear procedures for accessing and exiting the project site during severe weather events. For example, this may involve implementing risk mitigation measures such as limiting exposure times, requiring personal protective clothing and equipment, and restricting access to certain site areas.

Clear roles and responsibilities

: Finally, it is crucial to clearly define the roles and responsibilities for risk management during severe weather events. For example, you may be the primary risk manager on a construction project and need to take the appropriate risk management measures, such as closing the site or adjusting work hours to manage risk. Alternatively, you may work with a subcontractor with risk management responsibilities during extreme weather events. In either case, it is vital to know who is responsible for risk management so that you can work together in a coordinated manner to manage risk effectively.
Your plan should be as comprehensive as possible and include risk assessments for all types of extreme weather, with clear risk mitigation measures for each. By doing so, you can effectively manage risk during adverse weather events and protect your workers, other people in the area, and property from harm.​
Invest in a Weather Risk Management Platform
Ultimately, you must have the right tools and data to do a very accurate weather risk assessment. This is why we highly recommend you invest in a weather risk management platform like EHAB. This platform provides hyper-local climate data that you can use to assess weather risks and develop mitigation plans. In addition, the platform offers smart contracts and parametric weather risk insurance, which can provide financial protection against weather-related disruptions. Book a 30-minute demo to see how EHAB's platform can benefit your business.