The rainy season can be a real pain for construction managers in the United Kingdom. In the last five years (2017 to 2021), the UK has averaged 159 days of precipitation. This is almost half a year of rain or snow.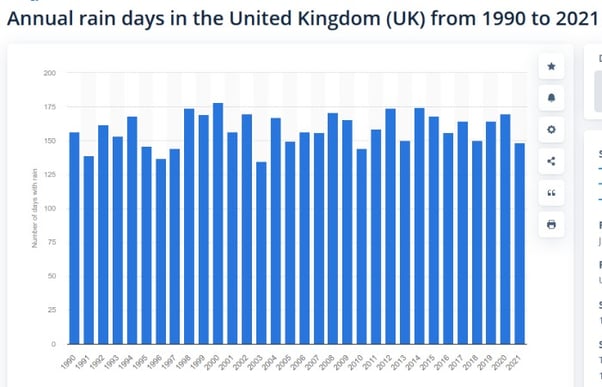 (Image source: statista.com)
Not only does rain cause a number of issues for teams managing construction projects, but it also poses a safety risk to workers. Here are some safety tips to help you keep your workers safe during the rainy season.
Plan Early
Managing construction projects during the rainy season begins with planning ahead.
Intelligent Planning Software
The best way to plan is to leverage the power of an intelligent weather risk platform. For example, EHAB is an intelligent planning software that lets you forecast weather conditions years in advance, so you can identify potential safety risks and take steps to protect your construction workers and materials.
EHAB's Enhanced Planner also offers a 4-week look-ahead feature that lets you see upcoming weather conditions so you can adjust your construction schedule accordingly. Other EHAB features include:
Hyper-local climate data for accurate construction planning

: EHAB's granular dataset provides precise information about every 4x4 km grid on planet earth, so you can plan construction site safety accordingly, no matter where you are.

Integrates with your existing tools and workflow (P6, PRA and other QSRA software)

: EHAB seamlessly integrates with your tools and workflows so you can focus on project planning rather than worrying about switching back and forth between different software.

Relevant warnings for proactive weather risk planning

: EHAB constantly monitors weather conditions to provide real-time notifications about upcoming risks, so you can take action before an incident occurs.

Modelling based on your plan

: EHAB's outputs help you make quick, informed decisions that are relevant to your plan. For example, with accurate data and evidence from EHAB, you can verify weather-related time risk allowance

for inclusion in your tender contract

Quick summary reports

: EHAB's easy-to-read reports help you stay on track and confidently make decisions. Whether you need summaries for your entire project or specific reports for particular teams, EHAB has you covered.

Real-time and historical weather data

: EHAB's real-time data is constantly updated, so you always have the latest information about current and past weather conditions.

Weather window planning

: With a clear understanding of your work schedule, you can sequence tasks more efficiently and avoid costly cancellation fees. This will lead to increased profits, less loss, and an improved reputation.

Easily check how changing plans will be affected by weather

: Whether you need to assess the impact of a task delay or review work progress, EHAB makes it easy to understand how changes in weather conditions will affect your project.

Reports for download and sharing

: EHAB's easy-to-use reports are perfect for presenting data to your team, clients, and stakeholders.
Identify Safety Risks
Next, it's essential to identify any potential safety risks on your construction site. Some common hazards include exposure to the elements, slips and falls, falling debris, electrocution from power lines, and more. Document these risks, ensure the entire construction team is aware of them, and take steps to mitigate them.
Protect workers, materials, and construction equipment
Be always on the lookout for adverse weather conditions that might put your workers in danger. Secure loose items and materials, and tie down exposed steel structures that could collapse or be blown away by strong winds. By taking these precautions, you can avoid costly accidents and injuries on-site.
Keeping the Project Going
Even with the best-laid plans, there will be days when working in the rain is unavoidable. When this happens, it's essential to take safety precautions to ensure the safety of your construction workers.
Use waterproof protective gear
First, ensure everyone is wearing waterproof protective gear, such as waterproof boots and rain jackets. This will help keep them dry and safe from slips, falls, electrocution, and other hazards.
Wear slip-resistant boots
In addition, make sure your workers are wearing slip-resistant boots to help them stay safe on-site even in wet conditions
Move with caution and clear vision
When moving on the construction site, it's essential to be extra cautious and move with clear vision, avoiding puddles and other potential pitfalls.
Be extra careful during thunderstorms
When working in the rain, it's especially important to be aware of the possibility of thunderstorms. If a thunderstorm suddenly appears, take cover immediately and stay safe until it has passed
Be aware of electrical cables
Be aware at all times of any nearby electrical cables and power lines, as these pose a serious risk during the rainy season.
Avoid deep trenches
When working on rainy days, doing excavation work can be a risk. If you are digging trenches the sides may become unstable due to the saturation of the soil with water. This can lead to the sides collapsing and causing lots of rework, or in some rare cases injury and damage to equipment.
Stay Visible
It's vital to remain visible on the construction site, especially during rainy and foggy days. Wear bright, reflective clothing or use other visibility aids to help ensure that you can be seen by your co-workers and any vehicles or other machinery on the site.
Practice caution when working with concrete
Another hazard to be aware of during the rainy season is wet concrete. When concrete gets wet, it becomes weaker and can collapse. This is especially true of concrete that hasn't had time to cure properly. If you must work with wet concrete during the rainy season, take extra care to support it properly and use caution when handling it. These measures will help ensure the safety of your workers and the quality of your finished product
Final Thoughts
Rainy periods can be difficult for construction managers in the UK, but there are steps you can take to keep your workers safe. By planning with the EHAB weather risk management platform, you can stay one step ahead of the weather and avoid potential hazards. And by taking precautions on days when working in the rain is unavoidable, you can help keep your workers safe from potential injuries. With these tips in mind, you can ensure a successful construction project – even amid a rainy season.